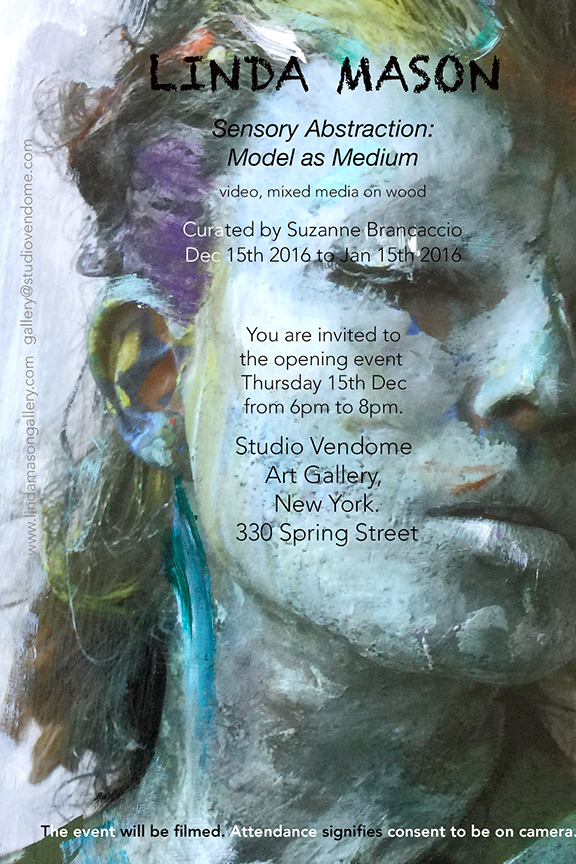 Dec15–Feb15 2017, Studio Vendome, Sensory Abstraction: Model as Medium, a solo exhibition by New York-based artist Linda Mason.

The series of wooden panels included in Model as Medium are representative of 12 years of work: some being the first of their kind, some produced exclusively for this exhibition. These works involve a layered process, beginning with the subject of the portrait itself. Mason will apply makeup and dress her model to be photographed, the result of which is often digitally manipulated, and applied to the wooden panels. Mason then applies paint to the portrait, in the vivid palate that characterizes her work, and, finally, a resin is applied. Seamlessly combining her techniques, these works achieve a textural complexity, calling upon the viewer to question the line between the photographic image and the artist's hand. Many of these works include yet another process, which Mason had initially began exploring through her photography and film: the act of painting directly onto her subject. In the vivid range of colors that pervades her artistic work, she uses thick, wet brushstrokes on the face and body. These acts transform her subjects, and the surface of the skin becomes a living canvas subordinated to paint and color.

Mason's ultimate goal is bring out each subject's individuality and personal strengths through this physical transformation. The process of directing her subject, their movements and placement of color, is inherent to the work. Two short films, to be premiered at Studio Vendome, allow the viewer an insight into Mason's unique practice and the close relationships she forms with her models, and the obscurity she achieves between photography and painting, art and fashion, and the figurative and the abstract. Two new mixed media works will also be on view, which merge video with her resin coated panels for the first time.